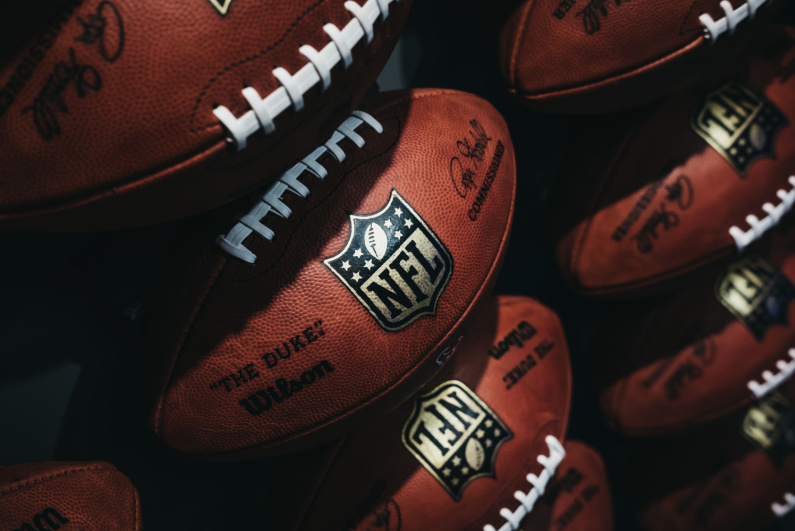 A dramatic first week in the NFL reflected betting stats that show a huge boom in online sports betting. [Image: Shutterstock.com]
As the dust settles over a dramatic Week 1 in the NFL, it appears bettors can't get enough, with a 56% increase on 2022 in online sports betting transactions. Many bettors in unregulated states such as Missouri, however, can't get any action.
That, according to Vancouver-based geolocation services firm GeoComply, didn't stop nearly half-a-million Missourians from trying to access online betting apps or sites during football's first week, as Covers reporter Geoff Zochodne shared via Twitter:
While Missouri was the most blocked state for online sports betting in opening week, there were many others knocking on the door but not getting past GeoComply's blocking technology. These included 262,000 from Mississippi, 92,000 from Georgia, 57,000 from Alabama, 52,000 from Minnesota, and 37,000 from South Carolina.
In "From the Sidelines to the Mainstream: GeoComply's NFL 2023 Week 1 Sports Betting Performance Report," GeoComply underlines the strong demand from states that don't have regulated online sports betting markets.
Missing a trick?
In its report, the Vancouver firm estimates $320.5m in annual taxes lost because Alabama, Georgia, Minnesota, Mississippi, Missouri, and South Carolina do not have legal markets. GeoComply states this data should be "a clarion call to lawmakers in these states to take action in 2024."
states like Missouri "should get off the legalization sidelines"
GeoComply CEO Anna Sainsbury concurred in a press release, saying states like Missouri "should get off the legalization sidelines and unlock their ability to protect consumers and generate significant tax revenue."
Legal market neighbors surround the likes of Missouri, for which the geolocation company cites data that shows thousands also travel across state lines to place a bet. How an Alabaman or Georgian would love to be in one of the new sports betting markets, Maryland, Massachusetts, or Ohio?
GeoComply's data dive revealed November 2022 market entrant Maryland had approximately 61,000 new accounts opened. March debutante Massachusetts saw 60,000 new sports wagering accounts and over 9 million geolocation transactions. Ohio has been on an upward trajectory since it launched in January 2023 with GeoComply recording almost 20 million geolocation checks in the NFL's Week 1.
The future's iOS
Another significant insight was that bettors made 97% of online betting transactions via mobile devices, of which 75% came from iOS (Mac/iPhone) devices.
the "highest rate of volume throughout the first week of NFL games ever"
The stat of Week 1, however, has to be the spike to 4,200 transactions per second during Thursday night's Detroit Lions game against Super Bowl champs Kansas City Chiefs. GeoComply stated the spike, which came immediately after the Lions scored the first touchdown of the game and season, was the "highest rate of volume throughout the first week of NFL games ever."

#Attempts #Blocked #NFL #Online #Bets